Shoulder, elbow and wrist injuries (often referred to upper extremity injuries) are common among professional truck drivers.  The injuries can be terribly painful and can make working as a professional truck driver impossible. 
For example, a trucker with a torn rotator cuff or nerve damage or impingement in the wrist or elbow may be unable to operate the clutch, fifth wheel pin, landing gear, and other equipment on the tractor trailer, or load or unload cargo.  These injuries need to be treated immediately to avoid further damage to the joint, tendons and ligaments.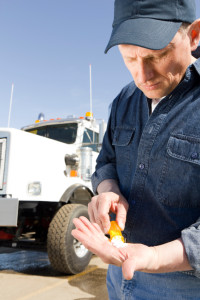 There are many activities that can cause truckers suffer shoulder, elbow and wrist injuries, including:
THE FIFTH WHEEL PIN.  The fifth wheel pin is a common cause of shoulder, elbow and wrist injuries in truckers.  To disengage the tractor from the trailer, the trucker must lean underneath the trailer on top of the wheels and pull up and outward on the pin. The pin can be extremely difficult to remove, and doing so puts the trucker in an awkward position and leaves him or her susceptible to injury. Shoulder joint and rotator cuff damage are common injuries associated with the fifth wheel pin.
THE ENGINE HOOD.  Lifting the engine hood is another common cause of shoulder, elbow, and wrist injuries for truckers.  The engine hood of an 18-wheel tractor trailer is high off the ground and heavy.   The driver stands on the front bumper and leans his/her body weight on the handle. Naturally, this would put strain on the upper extremities.
ENTERING AND EXITING THE CAB.  Slipping on the truck step and grabbing the hand bar to break a fall, is also among the most common causes of upper-extremity injury to truck drivers. The rotator cuff, elbow and A/C joint are damaged during this type of fall.
SLEEPING ON THE ROAD.  Team drivers live in a constantly moving vehicle. One driver is often sleeping on the bunk behind the seats while the other drives.  The trucker may be wider than the bunk, which means that the only comfortable position for the trucker to sleep is on his or her side with the head resting on an extended arm. A moving truck not only vibrates, but bounces. Impact trauma to the vulnerable shoulder of the relaxed and sleeping trucker is common.
THE LANDING GEAR.  The hand crank of the landing gear often causes repetitive stress-type injuries, most often to the elbow and wrist. This type of injury is common among drivers who used to work at terminals swapping trailers between trucks.
LOADING AND UNLOADING.  Any time a trucker handles cargo, shoulder, elbow and wrist injuries are possible.  Truckers often load and unload cargo after driving for hours and hours without a break.  Pulling, pushing, lifting and bending on un-stretched muscles and cold joints can lead to shoulder, elbow and wrist injuries. 
POSTURE.  One example is leaning the left elbow on the window frame or resting the hand or wrist on the gearshift lever.  This posture for extended period of time of months and years can injure the shoulder, elbow and wrist.
Truck drivers are likely to engage in several, if not all, of these activities every day.  It's only a matter of time until an injury occurs.  In addition, shoulder, elbow, and wrist injuries can occur from highway accidents, terminal and worksite accidents, as well as dangerous and defective products improperly designed and manufactured.  There are quite literally countless ways in which truckers can suffer shoulder, elbow and wrist injuries. 
The danger of driving a truck cannot be eliminated.  But, there are steps that can be taken to reduce the risk of shoulder, elbow and wrist injuries, and limit the severity of the injuries when they do occur.  The first step is to be aware of the activities that commonly cause these types of injuries.  Limit the activities to the extent you can, and when it is necessary to do these activities, make sure you stretch and warm up the shoulder, elbow and wrist area.
When you do feel pain in your shoulder, elbow and wrist area, don't ignore it.  Truck drivers in general do not like to complain even when they are in pain and often don't like to see doctors for their injuries.  Seeing a doctor for your shoulder, elbow, and wrist injury is very important and can prevent the injury from becoming more serious.
We hope these tips, tricks, and resources help you avoid painful shoulder, elbow, and wrist injuries.  But, if you are a trucker with one of these injuries, give us a call at 855-448-7887 (855-448-7887), or reach out to us in the comment area below, on email at [email protected], or on Facebook or Twitter. 
We will talk with you free of charge and let you know if you may be entitled to personal injury or workers' compensation benefits for your injuries.  We have a team of health care professionals who are used to caring for injured truckers and have the expertise to determine the cause of shoulder, elbow, and wrist injuries, even when the cause of the injury is not obvious from diagnostic tests.