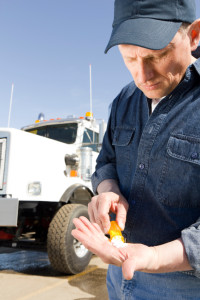 Professional trucking is a rewarding job, but it is also very dangerous.
Statistics from the Bureau of Labor Statistics prove this point. The transportation and warehousing sector (which includes professional truck drivers) accounts for more job related deaths than almost all other sectors (631 deaths in 2010 alone). Work injuries to truck drivers and other transportation and material moving occupations account for 25% of all work related deaths.
The danger is not limited to just accidents causing death. The transportation and warehousing sector has the highest incidence rate for work accidents of all sectors. To put this in context, the incidence rate for the sector including truckers is more than twice the rate for manufacturing workers and more than 50% higher than the construction sector. In addition, when truckers are injured on the job, the injuries are on average more serious than workers injured in other occupations. In fact, the median work time missed by injured truckers (21.4 days) is nearly twice the median for all occupations (11 days).
We see this first hand in our law practice every day. Day-after-day, truckers drive on dangerous highways where the risk of serious injury and death is always present. Truckers face tremendous pressure to deliver loads on time no matter the cost. This pressure forces truckers to drive long hours with few breaks. After driving for hours, truckers are then required to do strenuous physical activity such as loading and unloading and maintaining their trucks. This is a recipe for serious injuries.
The lifestyle required for professional trucking does not make it easy for truckers to stay healthy. Exercising and eating healthy on the road is a challenge. The combination of little exercise and poor eating habits can lead to elevated blood pressure, obesity, joint and muscle disorders, heart disease, and higher risk of cancer. These health problems (along with the challenge of sleeping on the road) can lead to sleep disorders (such as sleep apnea) that can cause fatigue and increase the risk that the trucker will be in a deadly highway accident. Chronic lack of sleep also increases the risk of heart disease, diabetes, depression, and other health problems.
We do not mean to suggest that all or most truckers suffer from these type of health problems. That is not the case. In fact, many truckers overcome the challenges of the trucking lifestyle and remain fit and healthy. However, truckers are human and as a group face the same types of health problems as the rest of society.
We see these health problems faced by truckers every day. We focus our practice on trucker health issues, and helping truckers recover from injuries. We would much rather help truckers avoid injuries and health problems in the first place. In the coming weeks, we will be reporting on health issues impacting the professional trucking community. Our posts will provide information on the most common types of injuries suffered by truckers, how the risk of these injuries can be reduced, and tips and recommendations for leading a healthy lifestyle on the road.
If you have any questions regarding these trucker health issues, please contact Hurt Trucker and let us know and we will try to answer your questions in the coming weeks, over the phone, or on Facebook or twitter. Please also let us know if you have any insight or comments on this topic. You can call us at 855-448-7887 (855-448-7887) or email us at [email protected]. We would love to hear what you have to say.