During our recent appearance on the Truth About Trucking blog talk radio program, we discussed "Trips, Traps, and Frustrations Faced by Hurt Truckers."  We are grateful to Allen and Donna Smith at Truth About Trucking for hosting this wonderful resource for truckers and allowing us to participate and share important information with hurt truckers.  You can listen to the show and read about the program in our recent blog post.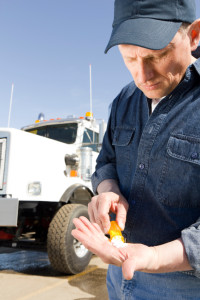 We received many great questions during the program.  One question we received from Eddie Gichuhi with Trip Sheet Central was whether owner operators can recover workers' compensation benefits when they are injured on the job.  In response to this question, we prepared this post to provide additional information to injured owner operators about workers' compensation rights.
The answer to the question depends on the applicable state law.  In most states, a trucker must be in an employee-employer relationship with the trucking company to recover workers' compensation benefits.  Trucking companies almost always deny work comp benefits to injured owner operators claiming they are not "employees."
Owner operators should not accept this denial of benefits at face value.  In some instances, the trucking companies' decision to deny benefits is correct under the law.  For example, under Missouri law, a trucking company does not have to pay work comp benefits to any owner operator, even if the trucker has a lease-purchase agreement with the trucking company and is not yet the title owner of the rig.
However, the workers' comp laws in other states such as Illinois allow owner operators to recover benefits in some instances, even when the driver has an owner operator agreement with the company that says he cannot recover.  These states recognize that many trucking companies call truckers "owner operators" in an effort to avoid workers' compensation obligations, but they treat them like employees.
In a true owner operator relationship, the truck driver is an independent contractor.  This means that the trucking company hires the trucker to perform a specific task (pick of load in City X and carry to City Y for $Z), but the company does not exercise control over how the trucker performs the job.
When the trucker drives exclusively for one trucking company and the company exercises control over the manner in which the trucker works, some states treat the owner operator as an employee and allow recovery of workers comp benefits.
As many of you know, trucking companies often engage owner operators to drive exclusively for the company and they exercise a great deal of control over how these truckers perform their work.  Put simply, they treat the owner operators as if they were employed drivers by subjecting them to the same or similar work rules that must be followed by employed drivers.  In these instances, the owner operator may be entitled to benefits.
The state where the claim is filed is crucial in determining whether an owner operator can recover workers' comp benefits.  An owner operator will not be able to recover workers' compensation benefits in Missouri, but the same trucker may recover benefits if the claim is filed in Illinois.  In most cases, a trucker can bring his workers' comp claim in one of two places (1) the state where he was hired, or (2) the state where he was injured.
Owner operator truck drivers injured on the job should never accept the companies' denial of benefits.  You should also never accept any statement from the company that you must bring your workers' compensation claim in a particular state.
Always contact an experienced hurt trucker attorney.  An experienced hurt trucker attorney will talk with you for free and can tell you where you can bring your claim, what law will apply, and whether you may be entitled to workers' compensation benefits.
In upcoming posts, we will discuss options owner operators have to purchase their own workers' compensation insurance.  If you have any questions about owner operators and workers' compensation, feel free to contact us at 855-448-7887 (855-448-7887) or let us know in the comments area below, or on Facebook or Twitter.  We love to hear what you have to say!